These photos are all from the St. Louis Cardinals official website.
This first photo is looking northeast toward the arch between towers 3 and 4 on what will be the left field stands. Obviously, poor Busch Jr. is at the north end forming the background of the photo. The arch is not visible due to the tower. Below that is the artists rendering of what it will ultimately look like. These arches are apparently from the Eads Bridge and will hang over the western entrance of the new park.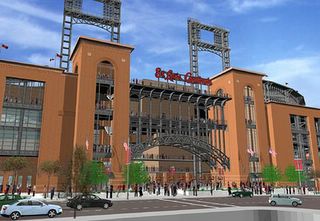 Next is the "official" "front" entrance to the park with the highway 40 overpass behind (see previous post about this and below). Below that are two perspectives on how this will look when finished. But on the second picture below, what they don't show is highway 40 running along the right side of the picture close to the right field stands.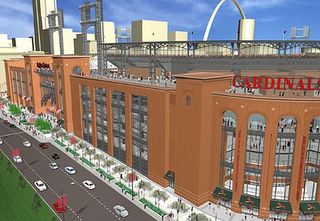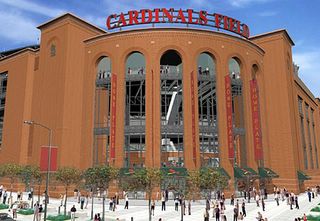 From two weeks ago, again, note how close highway 40 seems to be. Aren't they going to move the overpass? From the looks of the next artist rendering below this picture, I guess not. I think this detracts from the beauty of the new ballpark.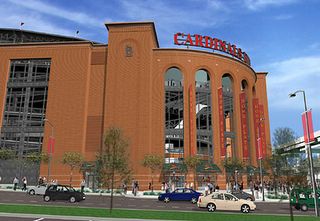 Next we have two perspectives from what the view inside the stadium will be from these left field/homeplate area seats they are building.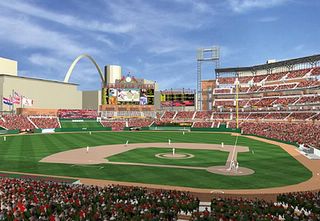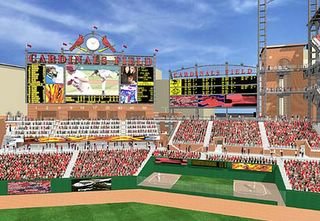 Finally, the perspective looking in from centerfield into the homeplate/left field stands area, which is the inside of the front of the ball park pictured above.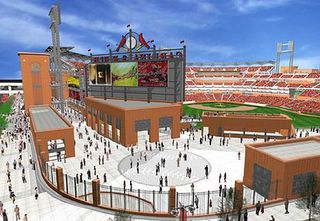 Time sure seems to be flying by. Welcome, summer. Everyone have a good, safe weekend.